AACSB Accreditation Office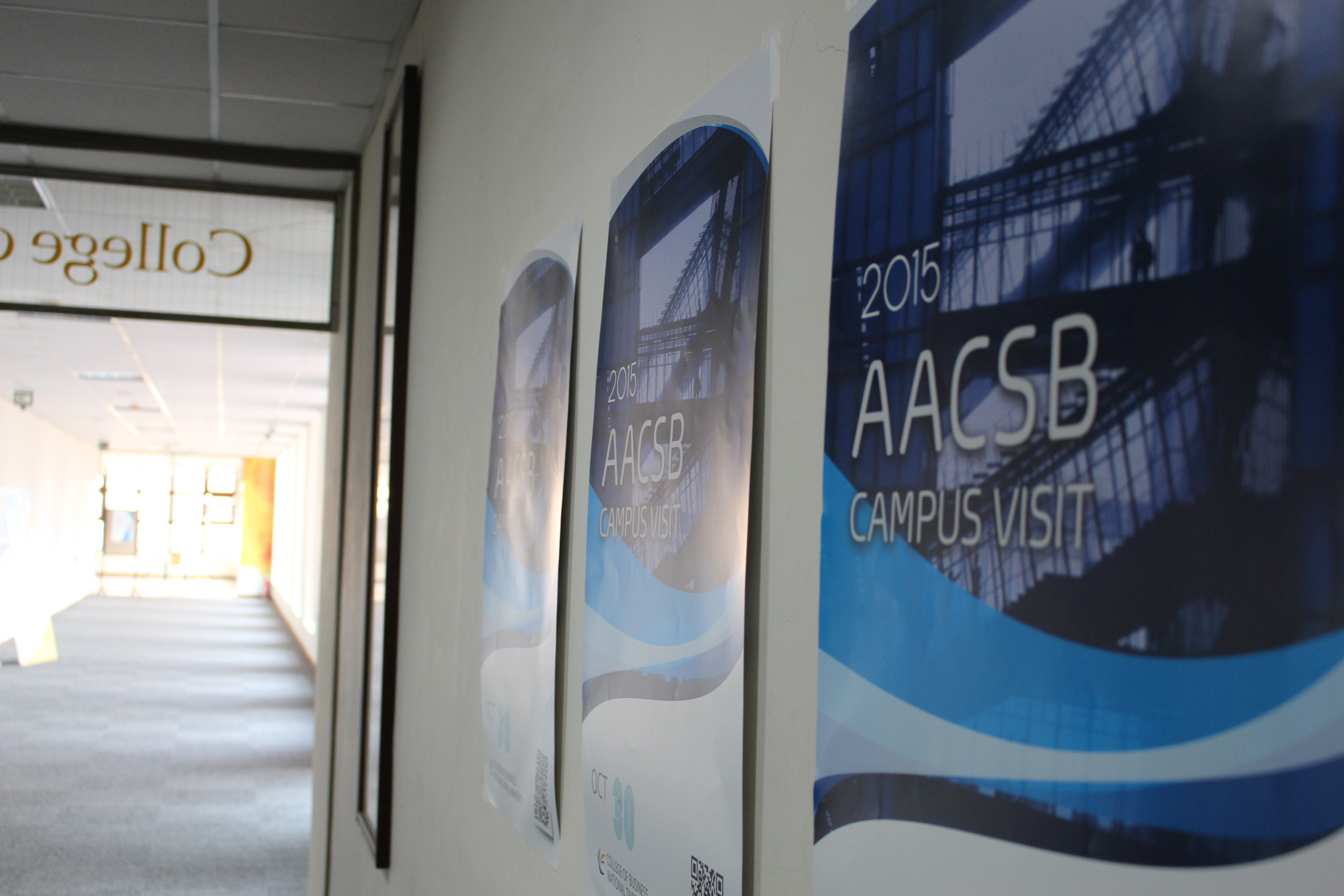 The Association to Advanced Collegiate Schools of Business (AACSB) Accreditation Office was established in 2009 to promote the implementation of international accreditation related standards required by the AACSB.
The role of the office is to act as a bridge between AACSB and the College of Business, National Taipei University. It coordinates with the College faculty, staff and students to uphold the standards of the College in alignment with AACSB standards.
In 2016, the College of Business was awarded accreditation by AACSB. AACSB is the world's most prestigous global accrediting body for Business Schools, less than 5% of Business Schools worldwide are accredited by this organization.
International Cooperation
The College is presently undertaking several projects to further internationalize our student body, which we admit, is improved. A major constituent of our strategic plan is to further enhance the international reputation, and therefore the educational enviroment of the College and University by attracting more international exchange and degree-seeking students. From 2014-2020, the College has developed joint-degree programs with AACSB-accredited colleges, exchange programs and other collaborative partnerships with like-minded colleges in the United States, Europe and Asia.
International Affiliated Schools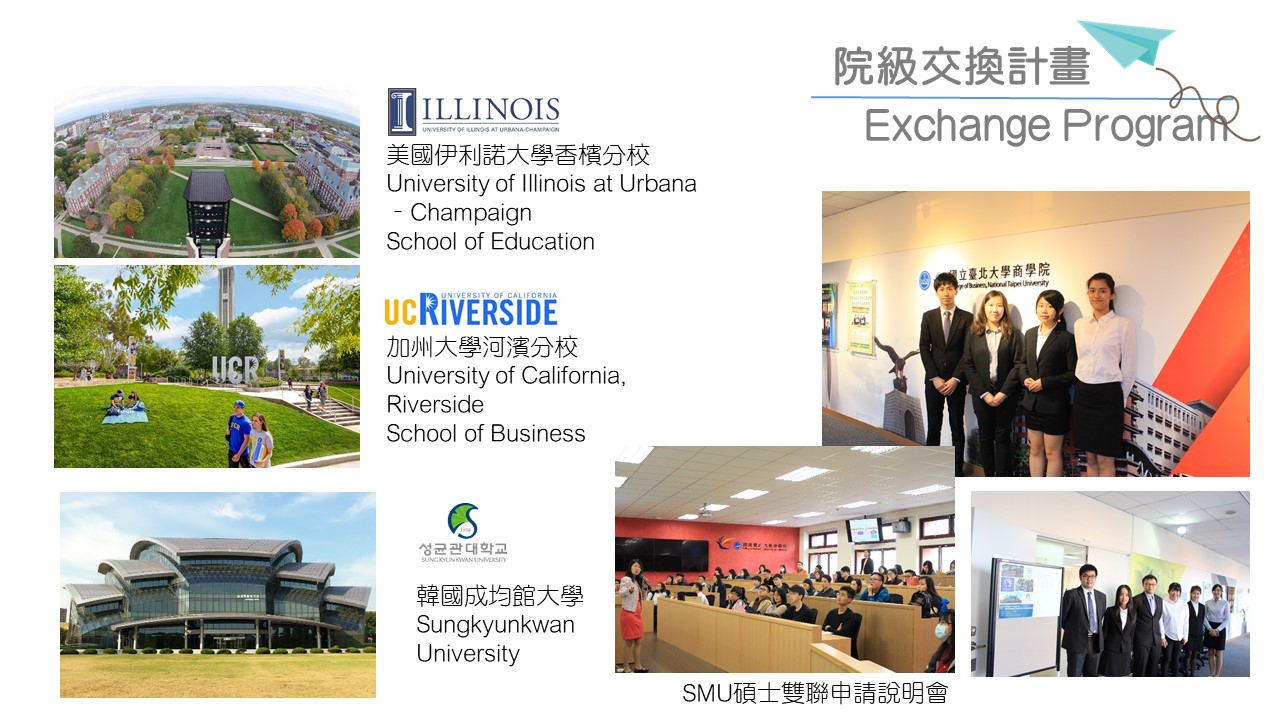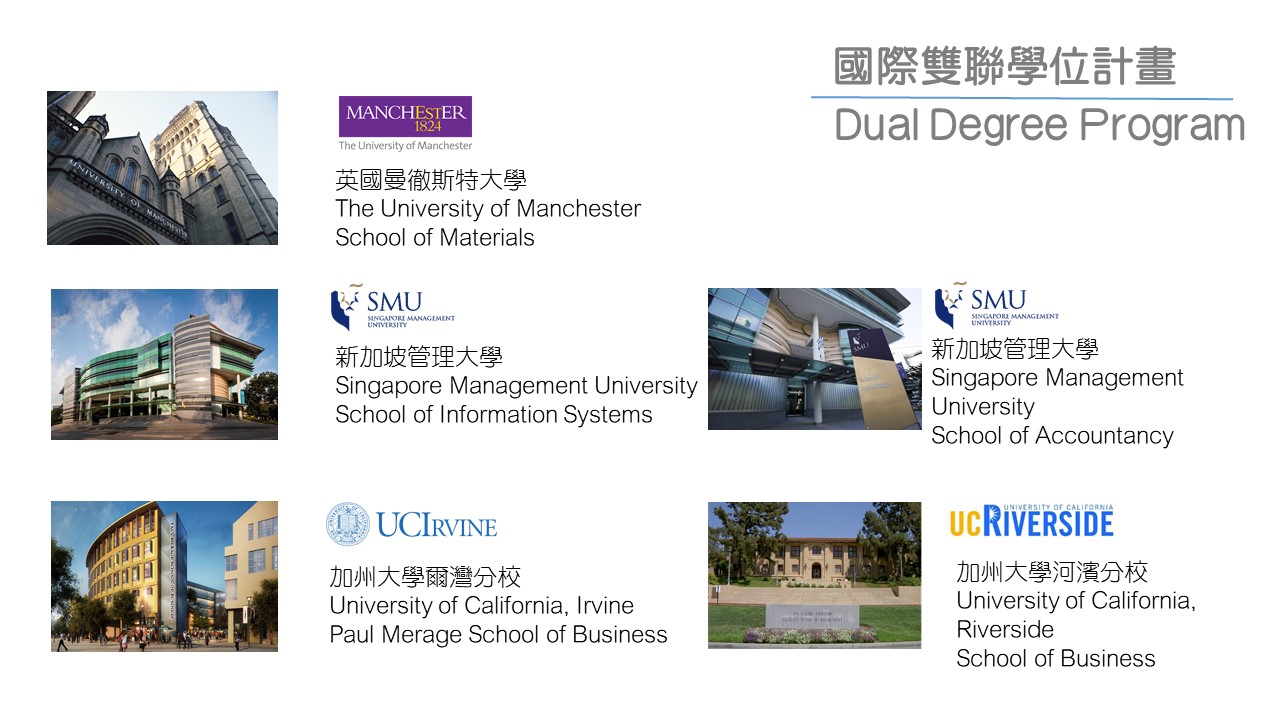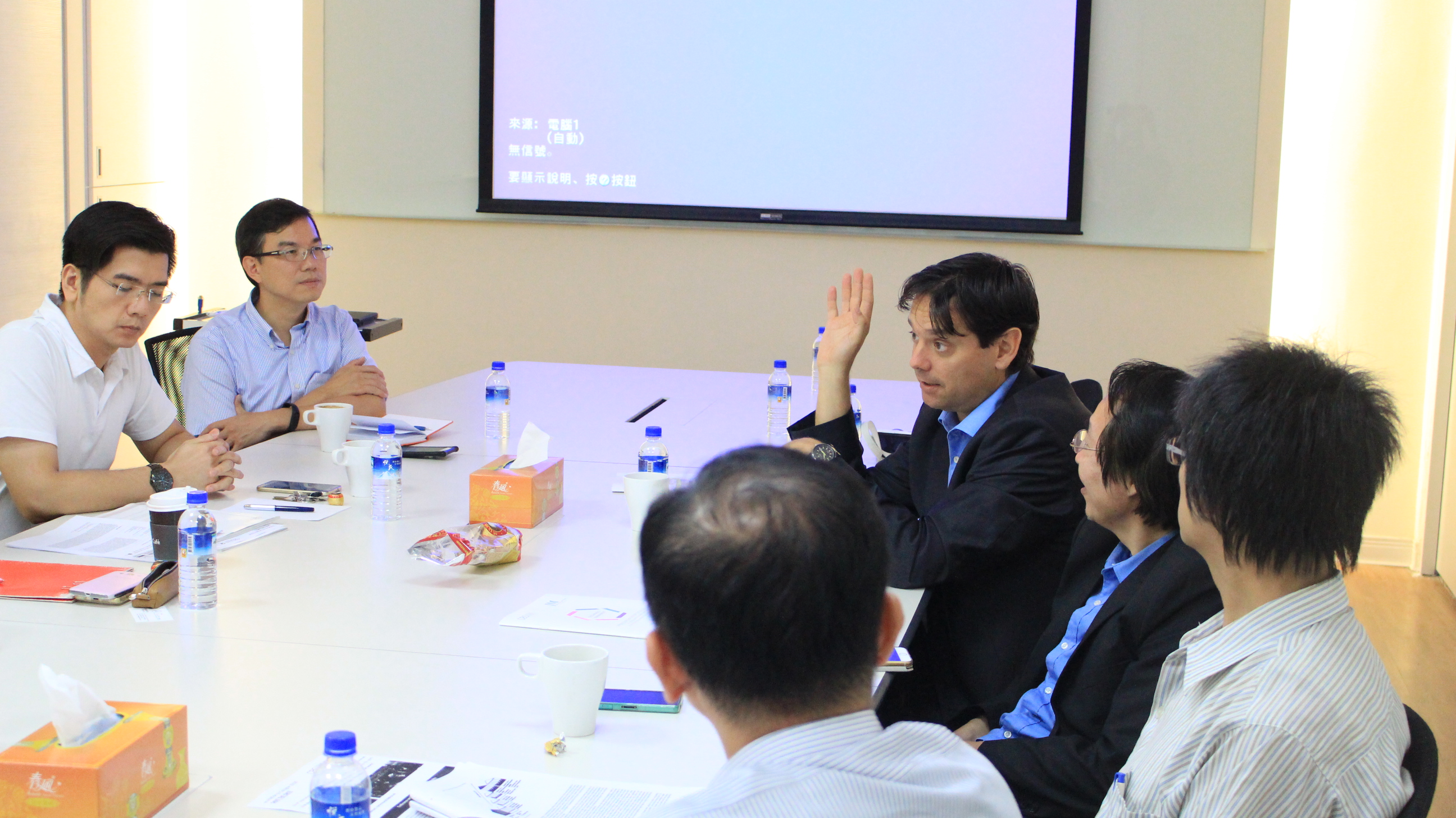 Additionally, to enhance the relationship and to build up strong connections with our partnership universities, we invite professors from theses universities to lecture at CoB or to do research with our faculties. Please refer to our web page about CoB Visiting Scholars
Tsang-Ku Chen International Exchange Scholarship (CoB)
Mr. Tsang-Ku Chen, who graduated from NTPU in 1965 and is the chairman of IMI Group launched an international exchange scholarship in 2019. Mr. Chen has made donation to the Department of Business Administration and the College of Business repectively for five consecutive years to help NTPU promote our international exchange/ dual degree programs. The purposes of both scholarships are used to encourage CoB students to participate in exchange programs and joint degree programs, as well as inviting foreign scholars to CoB to give lectures and engage in academic exchanges.
https://www.ntpu.edu.tw/chinese/laws/law_more.php?dep=32&id=2100
Student International Participation
At CoB, we encourage our students to take overseas internship, participate various kinds of summer/winter camp or do international volunteer work abroad to broaden their global perspectives. We get positive feedbacks from our students every year.
For the application of volunteer work, overseas internship, and outgoing camp, please check the information below:
International Volunteer Group
Outgoing Camp
For students who would like to apply for the summer/ winter outgoing camp, please refer to the website of Office of International Affairs:
http://oia.ntpu.edu.tw/camp/camp/index/type/outgoing
Experience Sharing:
Overseas Internship
Recruitment Information:
https://www.ntpu.edu.tw/admin/a8/org/a8-4/career.php
For more events about the internships, please refer to the fan page of Career Development Section:
https://www.facebook.com/NTPUCDC/
MBA in Finance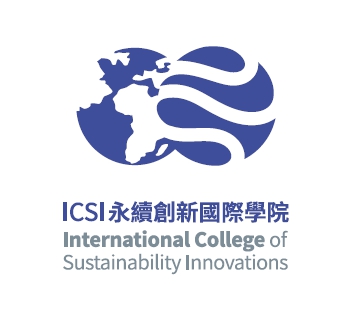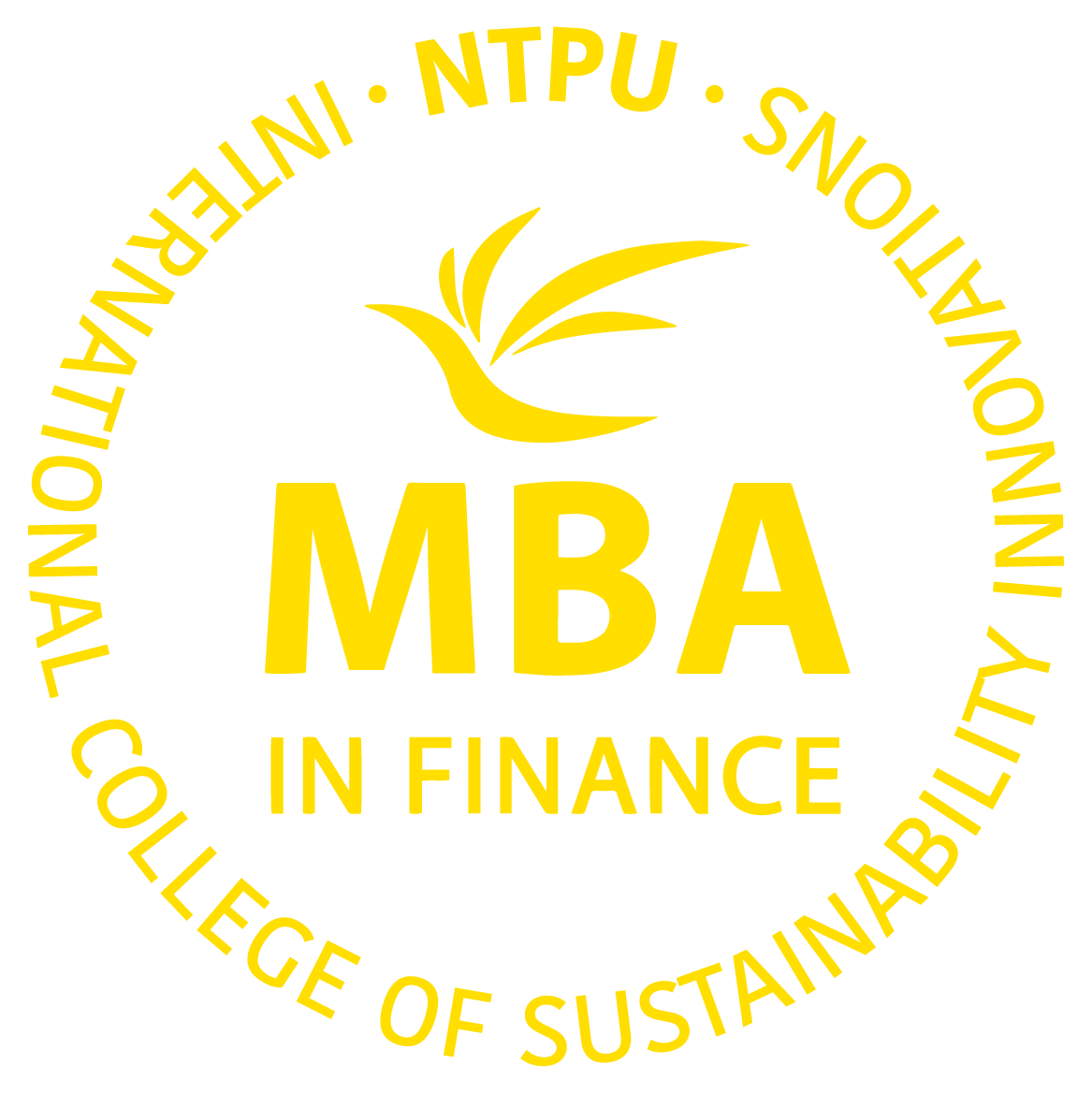 The MBA (Master of Business Administration) in Finance opened its doors to international students when it was established by the College of Business in 2013. The MBA in Finance has since pushed the College of Business to a new milestone. The MBA in Finance shows that NTPU's College of Business is capable of providing international students with an adequate number of English-taught courses. But furthermore, it demonstrates that NTPU has considerable capabilities and resources, sufficient to provide foreign students with a professional financial teaching environment that is diverse, friendly, complete, and high-quality.
In 2019, the program was incorporated with other degree programs taught in English at NTPU into the newly-established International College of Sustainability Innovations. The move has expanded and integrated resources on campus and is hoped to allow international students to enjoy a richer learning experience.
Currently the program has had international students from Sweden, Thailand, Germany, the United States, Canada, Italy, Mexico, Indonesia, Turkey, the Solomon Islands, Vietnam, Mongolia, India, Mozambique and Costa Rica, making the NTPU campus like a diverse, global village.
More information about the program: http://www.gmba.ntpu.edu.tw/
Visit Website: http://www.gmba.ntpu.edu.tw

Visting Scholar
Dr. George Gresham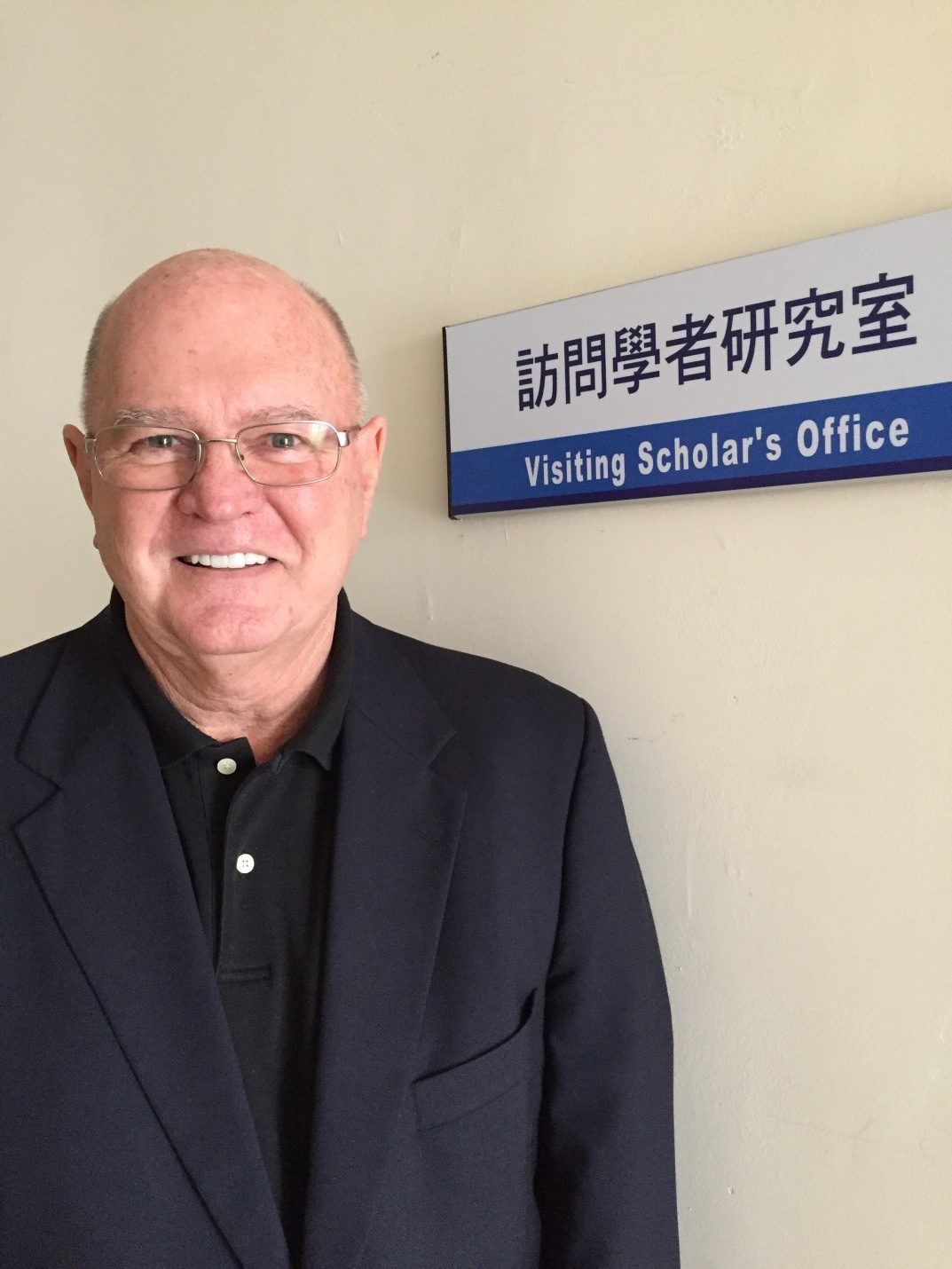 Ph.D. Marketing and International Business, Old Dominion University, Norfolk, VA (2005)
Research Interest:
Applied marketing and management, hybrid and accelerated business strategy and marketing, global business strategy and development, new product planning, strategic marketing and professional selling.
Academic Experience:
Associate Professor, Marketing
Davis College of Business, Jacksonville University- Jacksonville, FL(2009-present)
Assistant Professor, Management and Marketing
Texas A&M University-Kingsville, TX(2005-2009)
Visiting Assistant Professor, Marketing
University of Tampa, Tampa, FL(2003-2004)


Founding Director, Adult Education Programs and Assistant Professor, Business Administration
Mary Baldwin College of Northern Virginia, Sterling, VA(2002-2003)

Assistant Professor, International Business
American University, Washington, DC(1996-1998)

Lecture, International Negotiations and Strategic Marketing Planning for Turkish Export
Firms, International Trade Insititute, Istanbul, Turkey( 1998-2002)

Lecturer, Foreign Direct Investment and Global New Product Planning, Seminar(s) for
University of Maastricht MBA students in conjunction with American Unviersity, Washington, DC. Spring 1996
Course Instructed:
Markting Resarch

Special Topics on Marketing Management
---
Dr. Kanji Tanimoto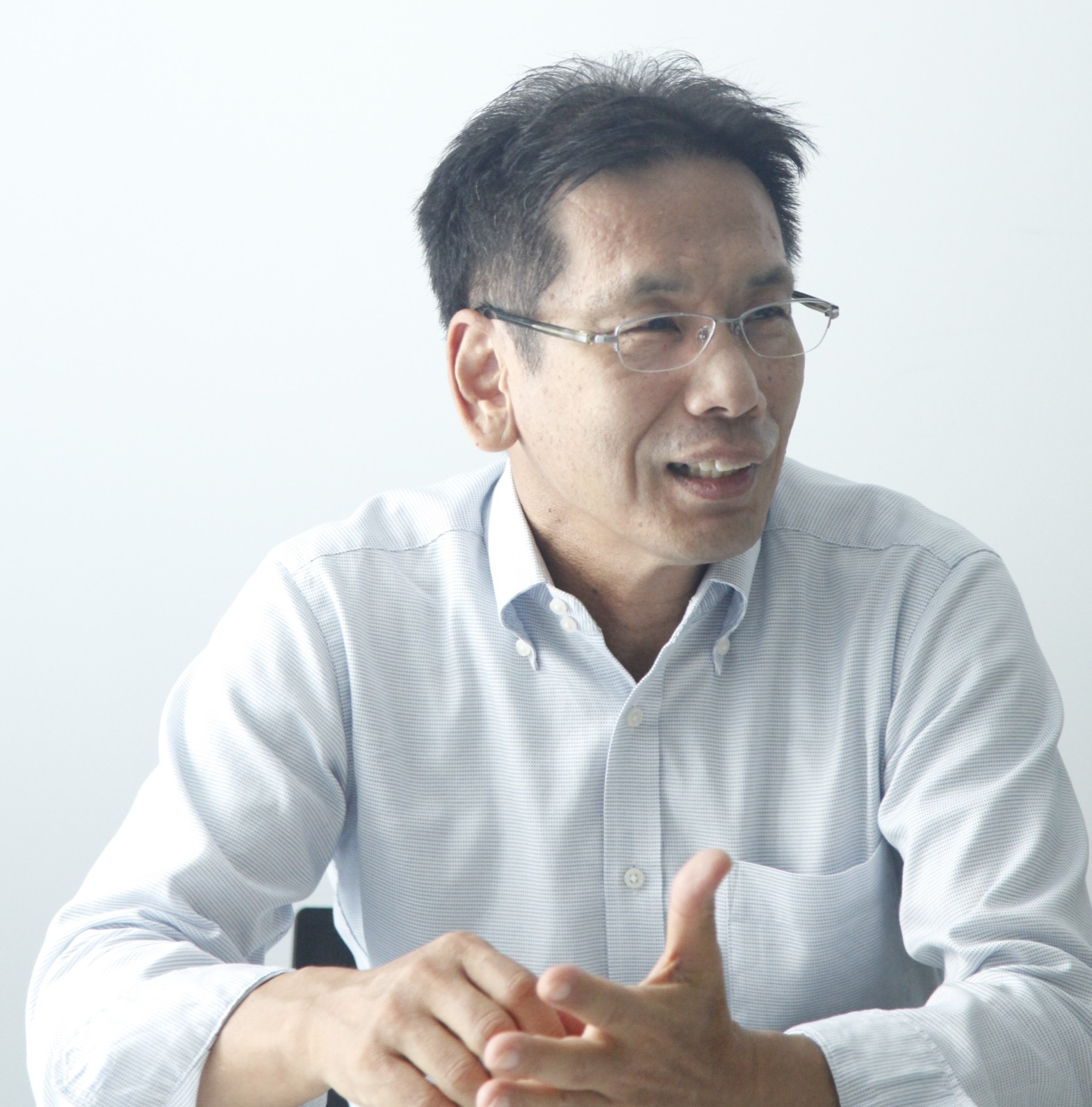 Ph.D. in Business Administration, Graduate School of Business Administration, Kobe University, Japan(1984)
Research Interest: 
Corporate System, Business and Society, Corporate Social Responsibility, Social Business
Academic Experience:
Professor, School of Commerce
Waseda University (2012--present)
Professor, Graduate School of Commerce and Management,
Hitotsubashi University (2000--2011) 

Professor, Faculty of Commerce and Management,
Hitotsubashi University (1997--2011)
Representative Director of
Social Innovation Japan (NPO) (2005--2009), Special Advisor (2009--2010)
Visiting Professor, Institute of East Asian Studies,
Free University Berlin (2010, 2014)
Course Instructed:
Corporate Social Responsibility



---
Dr. René Schmidpeter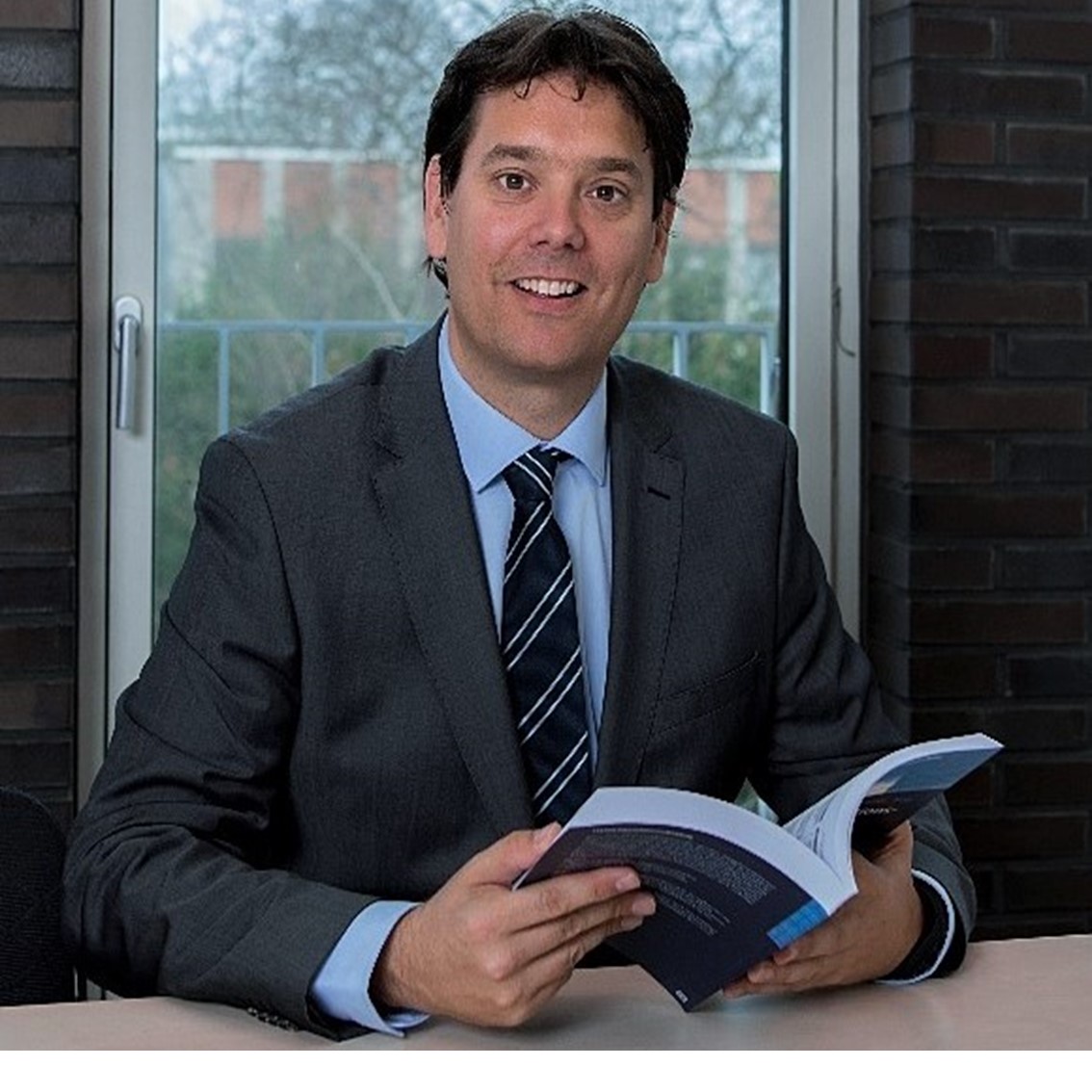 Dr. phil.: University of Eichstaett-Ingolstadt, Germany Dr. of Philosophy in Social Ethics (2008) - Dissertation: "Self-Governance as Instrument of Local Family Politics"(in German language) Advisor: Prof. Dr. André Habisch(2008)
Research Interest
Sustainable Management, Strategic Management, International Management, Corporate Social Responsibility, General Management and Philosophy, International Finance
Academic Experience
Holder of the Endowed Dr. Juergen Meyer Chair of International Business Ethics and CSR at Cologne Business School (2013-present)
Adjunct Professor
Murdoch University, Perth, Australia (2015-present)
Guest Professor
University of Finance and Economics, Nanjing, China (2013-present)
Academic Director
Centre for Humane Market Economy Salzburg (2011-present)
Lecturer (Lehrbeauftragter)
Business Ethics, Ingolstadt School of Management, University of Eichstätt-Ingolstadt, Donau-Universität Krems and Maastricht University (2013-present)
Lecturer (Lehrbeauftragter)
Corporate Social Responsibility, University of Applied Sciences Ingolstadt (2009-2013)
Project Manager
Bertelsmann Foundation, Program "Corporate Social Responsibility" (2008-2010)
Senior Advisor
Federal Ministry for Social Security and Consumer Protection (2004-2007)
Founding Member of the Board and General Manager, Center forCorporate Citizenship, University of Eichstaett-Ingolstadt Germany (2000-2004)
Course Instructed
Theory of International Trade
Dr. Hsi-Hui Chang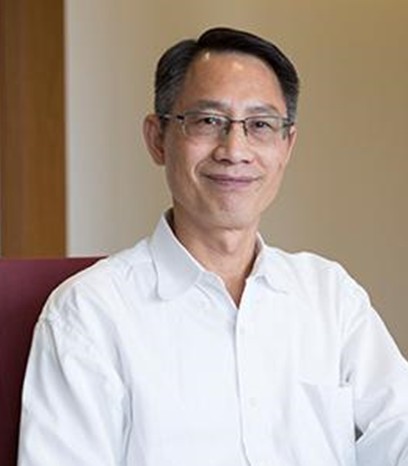 Ph.D. Accounting, University of Minnesota (1994)
Research Interest
Managerial Accounting, Auditing, and Information Technology.
Honor and Awards
2011-2019 Top Ten of Authors on SSRN by Total New Downloads
2011 Service Award, Drexel Chapter of NABA
2010 Outstanding Paper Award Winner, Emerald Literati Network, U.K.
2008 Outstanding Alumni Award, National Changhua University of Education
2006-2007 LeBow Distinguished Visiting Scholar, Drexel University
2000 Best Teacher Award, School of Management, University of Texas, Dallas
1999 Citation of Excellence for Highest Quality Rating, Editorial Advisory Board, ANBAR Management Intelligence, U.K.
1995-1999 Class-A Research Award, National Science Council, Taiwan
1997 Best Paper Award, the Third International Conference on Contemporary Accounting Issues
1993-1994 Carlson School of Management Competitive Dissertation Fellowship, University of Minnesota
1992 American Accounting Association Doctoral Consortium Fellow
Course Instructed
Advanced Management Accounting, Empirical Methods in Accounting, Data Analytics and Disruptive Technologies.
---
Scholars Invited to NTPU/ CoB for Academic Exchange
Year

Visiting Scholars

Institution

Invited Bodies

2015

Prof. Arjun K. Gupta

Bowling Green State University, USA

Dept. of Statistics

2015

Prof. Jacek Wesolowski

Warsaw University of Technology, Poland

Dept. of Statistics

2017

Prof. Carl Moun-Shen Lee

Central Michigan University, USA

Dept. of Statistics

2017

Prof. Yong Gyu Lee

Sungkyunkwan University, South Korea

Dept. of Accountancy

2017

Prof. Iny Hwang

Seoul National University, South Korea

Dept. of Accountancy

2018

Prof. Hwa-Hsien Gary Hsu

Durham University, UK

Dept. of Accountancy

2019

Prof. Dai Bin Tian

Singapore Management University, Singapore

CoB

2019

Prof. Albert Tsang

(The founder of the field of CSR information disclosure)

Schulich School of Business, York University, Canada

CoB